As we wind down for our four-day weekend in celebration of Easter, we're hopping with egg-citement. We can't wait for an egg-cellent break. And when we return, we'll be tapping away at our keyboards like bunnies, catching up on what we've missed.
Are you bored yet? These tired seasonal tropes are paraded out every year, to wag their tails on social media and email banners to drive up clicks for an organisation. We'll hear about how bargains are "hopping mad" this week. We'll be faced with egg-spert opinions. And for those braving the shops over the weekend, you'll "hop 'til you drop." There's simply nothing clever or fresh about this type of content.
I know, I know, we sound like the fun police. For the most part, a bit of light pun work is harmless. As comms professionals engaging with any audience, be it internal or external, it's a quick win to create an attention grabbing asset in celebration of the season. Certainly where it's appropriate, it's great to inject some relevant and amusing content into your comms calendar – designers can flex their creativity around the theme, and copywriters can go to town on the rabbit references. But just where do we draw the line?
This year, we've seen a range of Easter themed posts in our feeds. From the mildly genius to the downright lazy and offensive. We spoke to the team and came up with some questions and simple do's and dont's that guide us.
Don't be a bad egg (we couldn't resist!), ask yourself these three questions when considering a seasonal comms hit:
Is it relevant to my audience?
Consider whether your audience even celebrates the season you're focusing on. Is the season something the people you are speaking to really care about, and if so do they expect to hear from you about it, think about your relationship and the role you play and what type of information people come to you for.
Am I risking being insensitive?
There's nothing more cringe-worthy than a pun gone wrong or an image that misses the mark. Is it really worth jumping on the seasonal element if you can't pull it off? Don't try to be funny unless you're certain the joke lands. We encourage you to ask as many people within your team for feedback. Don't offend, just delight.
Has it been done before?
Chances are, the answer to this is yes. If so, how can you change the angle to keep things fresh? Laziness doesn't score points with any audience. Imagine the content consumer is as discerning as you are, what would really catch your eye, make you laugh or stop and think.
Seasonal content can be fun and bring an element of humour to your comms plans but it can also be tricky to get right. If executed without thought or review from peers you risk turning off employees or customers. So, where will your seasonal comms sit on the scale of "LOL", "Meh" to "Gross!"? Here are a few wins and faux pas to remind you why it's always worth getting that second opinion.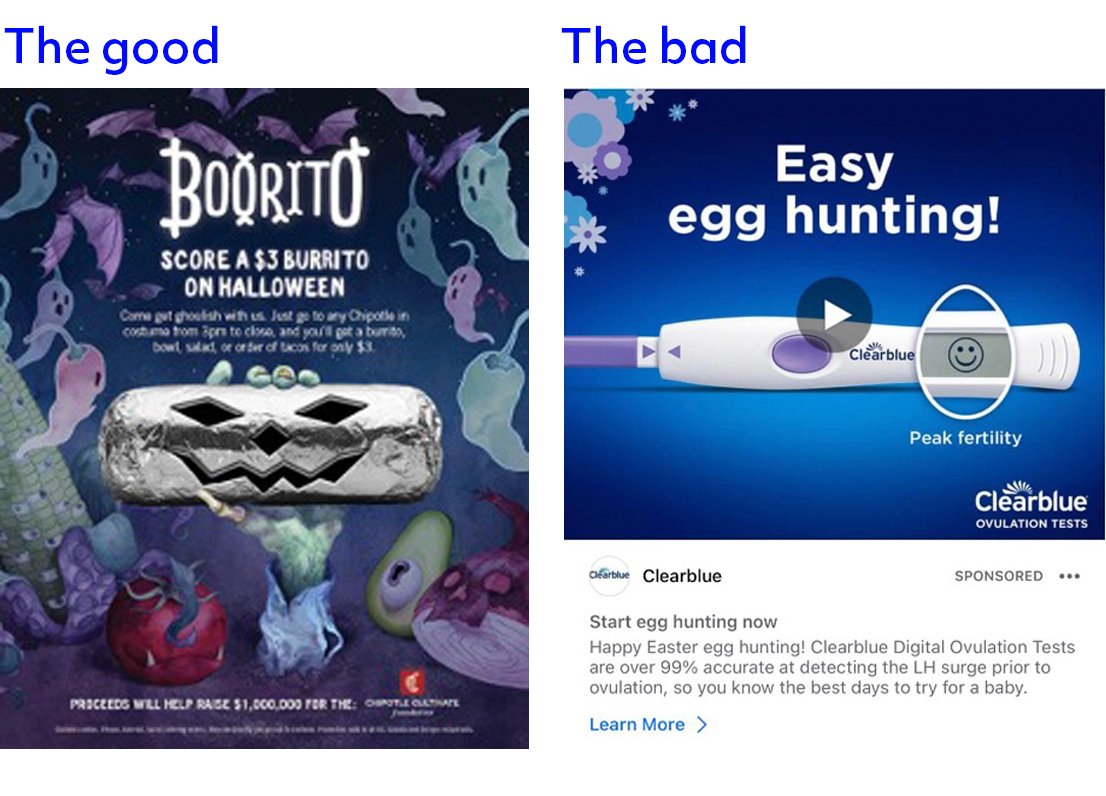 We also loved listening to the Using humour in internal comms episode of the Engaging Internal Comms podcast.